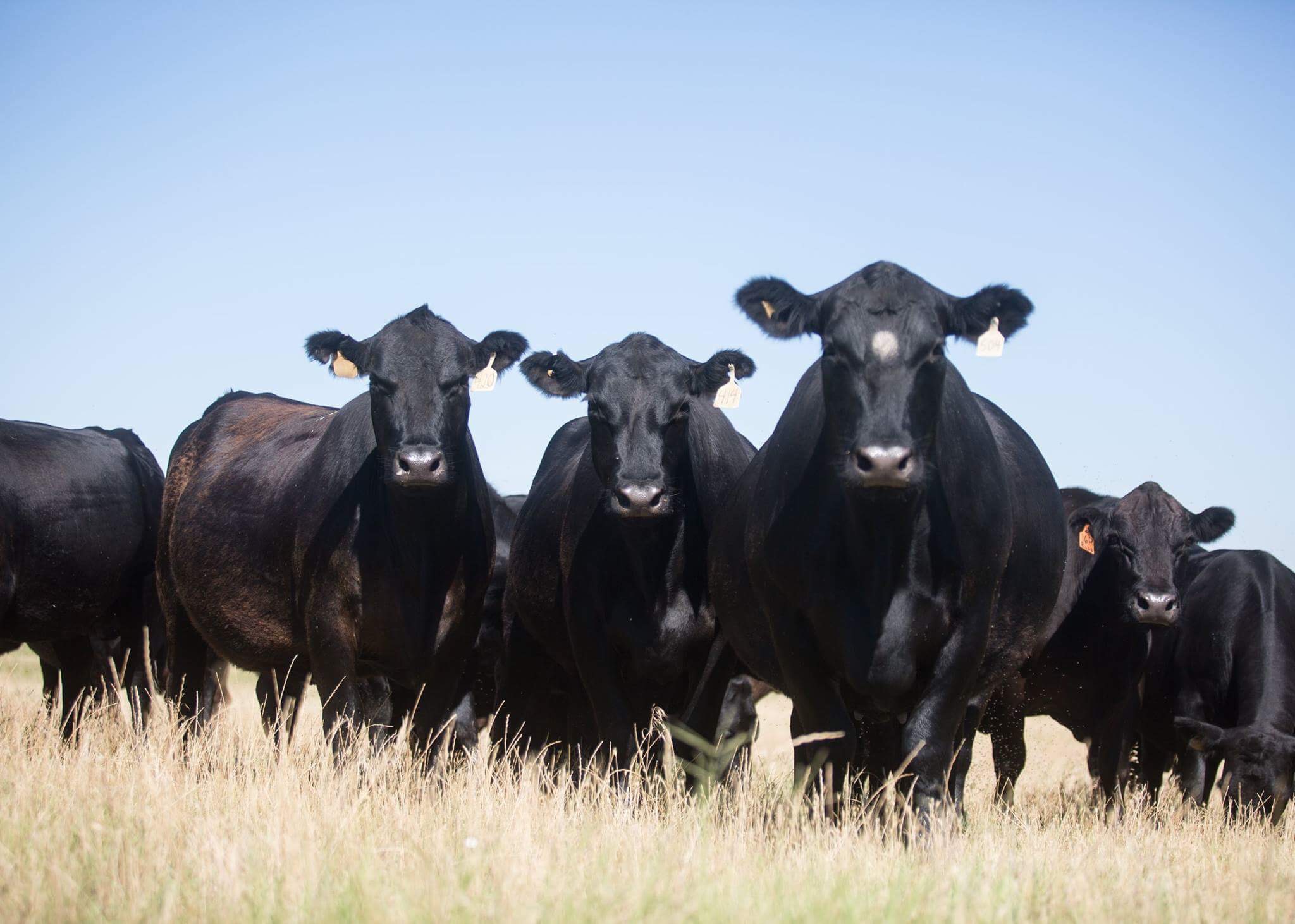 WHY GELBVIEH AND BALANCER®
---
SMART. RELIABLE. PROFITABLE.
---
Gelbvieh and Balancer genetics are well known throughout the beef industry for their maternal strengths and superior growth. With attributes such as more pounds of calf weaned, added fertility, greater cow herd longevity and heavier carcass weights, just to name a few, Gelbvieh and Balancer offer genetics that work for the commercial cattle business.
---
ABOUT BALANCER®
---
Balancer cattle are registered hybrid seedstock that have documented pedigrees and expected progeny differences (EPDs) Balancer animals are 25 to 75 percent Gelbvieh with the balance of Angus or Red Angus. Balancer cattle combine the Gelbvieh growth, muscle, leanness, fertility, longevity and low yield grading ability with the carcass qualities of Angus.Balancer cattle offer a simple and powerful way to maintain hybrid vigor and a profitable blend of British and Continental genetics without a complicated crossbreeding system. These cattle fit well into all aspects of the beef industry including commercial cow/calf operations and on the rail.
---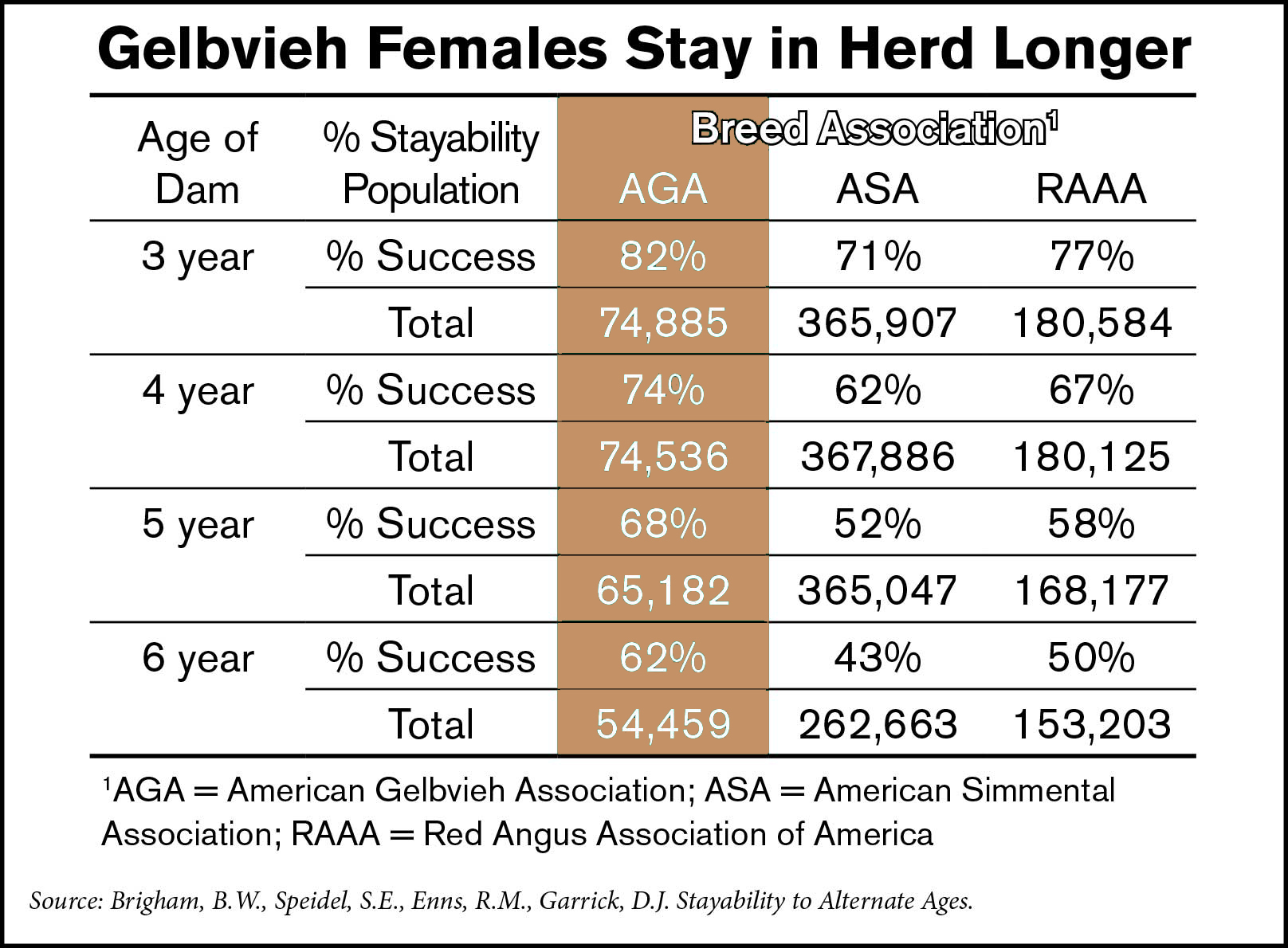 ---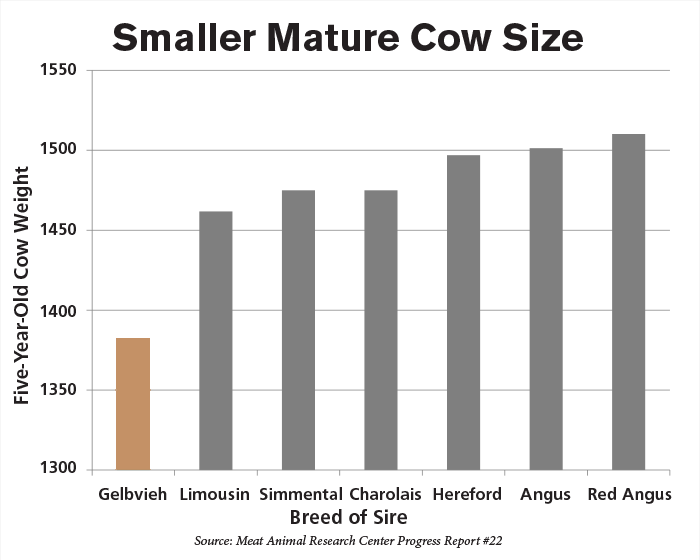 ---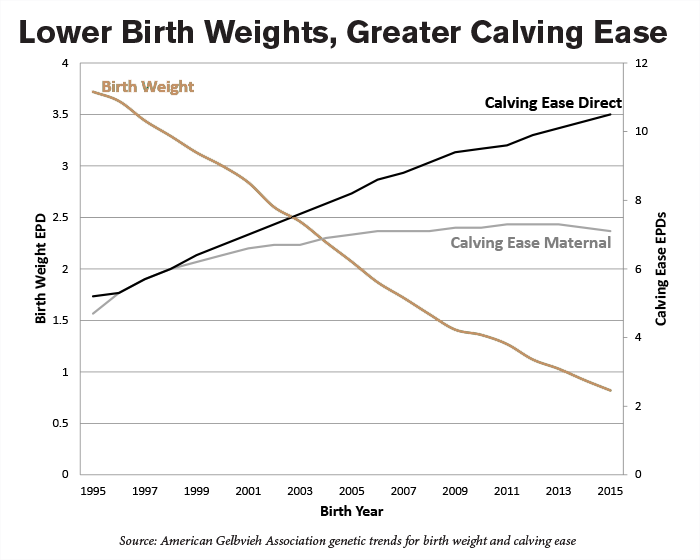 GELBVIEH and BALANCER® MATERNAL INFLUENCE
---
Gelbvieh and Balancer cattle offer maternal superiority through increased longevity, added fertility, and more pounds of calf weaned per cow exposed. In addition, Gelbvieh and Balancer females offer a reduced mature cow size, more maternal milk, greater calving ease and reach puberty at an earlier age. GELBVIEH AND BALANCER FEMALES EXCEL IN STAYABILITY Females that stay in the herd longer are by far the most profitable. To measure and select for this trait, the American Gelbvieh Association (AGA) offers a stayability (ST) EPD. This EPD predicts the genetic difference, in terms of percent profitability, that a bull's daughters will stay within a herd to at least six years of age.With the high costs associated with the development or purchase of replacement females, sustained production in a herd is essential. Gelbvieh females are proven to stay in the herd longer. MATERNAL EFFICIENCY U.S. Meat Animal Research Center data shows Gelbvieh females have the smallest mature cow size of the four major continental breeds. The Gelbvieh breed was the only breed in the study to reduce mature cow size – at an average of 1,382 pounds Gelbvieh-sired females had the lowest five-year-old cow weight. This reduced mature cow-size allows for puberty to be reached at an earlier age, which leads to calving earlier in the season and producing a heavier calf at a younger age. GREATER CALVING EASE Calving ease is an important factor many cattlemen consider when selecting a herd sire. Cattlemen and cattlewomen like to have peace mind knowing their calves will be born unassisted and alive. Getting more live calves on the ground is the first step to getting more pounds of calf weaned per cow exposed and also equates to more potential for future profit. The Gelbvieh and Balancer breed has lowered birth weights and increased calving ease to meet the demands of today's beef industry.
CROSSBREEDING IS SMART AND EASY WITH GELBVIEH AND BALANCER®
---
---
Crossbreeding has been utilized in the cattle industry for many years and for good reason. Crossbreeding provides several benefits including those seen from individual heterosis, maternal heterosis and overall greater lifetime profitability. Using Gelbvieh and Balancer® genetics in a crossbreeding program adds productivity, longevity and profitability with crossbred cows and hybrid bulls.
INDIVIDUAL HETEROSIS
Individual heterosis is the improvement in performance by the individual crossbred animal above the average of its parents. Increased calf livability, weaning weight, yearling weight and carcass traits are examples of individual heterosis in crossbred calves.
MATERNAL HETEROSIS
Maternal heterosis leads to the combined improvement in traits from the dam that cause increases in the performance of her and of her progeny. Examples of maternal heterosis in a beef cow include: younger age at puberty, increased calving rate, increased survival of her calf to weaning; longevity and pounds of calf produced in her lifetime.
UTILIZING GELBVIEH AND BALANCER GENETICS IN A CROSSBREEDING PROGRAM
Gelbvieh and Balancer cattle excel in traits such as growth, stayability, and productivity. Using Gelbvieh and Balancer genetics in a crossbreeding program can help increase profitability of an operation. See additional pounds and added profit through more efficiency and greater longevity of cows as well as heavier, faster gaining feeder cattle.
---
FEEDLOT AND CARCASS ADVANTAGES WITH BALANCER® GENETICS
Today, feeders favor buying cattle with genetics that predict performance both in the feedyard and on the rail. To help breeders select for these more favorable animals, the American Gelbvieh Association offers both a Carcass Weight (CW) and Feeder Profit Index (FPI).
INCREASED CARCASS WEIGHT
With the beef industry calling on heavier carcass weights and greater quality, using Balancer genetics can help capture premiums at harvest. Balancer genetics offer more pounds of carcass weight and the ability to reach industry demanded quality grades without sacrificing yield grade.
OPTIMIZE FEEDLOT GAIN AND EFFICIENCY
The industry demands an animal that grades Choice or higher, while posting a Yield Grade 1 or 2 carcass. A combination of marbling and a lean meat yield is often not an easy target to hit. Using Gelbvieh and Balancer genetics can help get you there. The American Gelbvieh Association research shows that a blend of 25 to 50 percent Gelbvieh with 25 to 75 percent British is ideal in producing cattle that will Quality Grade Choice and Yield Grade 1 or 2.